At BCS Management, our management services are focused heavily on our government and municipal clients.   Today was a big day for the Allen County Regional Water and Sewer District who closed on a $2M grant in addition to a loan with the Indiana Department of Environmental Management.  
This press Release by BCS Management and Ted Nitza of The Secant Group, LLC went out today and is getting picked up by local media such as the Journal Gazette. We are excited to help get these new project areas under construction and get homeowners connected!  
Read more here.
Fort Wayne, IN – Many homes on septic systems in Allen County and throughout the State of Indiana have septic systems that are old, not up to Department of Health code, and are failing or failed. These dated systems can adversely impact the environment by polluting surrounding soil and streams. Many homeowners cannot afford to install a new septic system or their home lot is simply too small for a modern replacement system. New sanitary sewer infrastructure is often the best way to take these failed and failing systems out of service at an affordable cost to residents.
The Allen County Regional Water and Sewer District (District) announced the award of $2,000,000 in grant funding from the State of Indiana for sanitary sewer projects. These projects, which will soon be under construction, will provide sanitary sewer service to more than 250 homes throughout rural Allen County. These projects, requested by homeowners in the respective areas, provide public health and environmental solutions to areas plagued by underperforming systems.
"This grant funding will be a tremendous help for us in bringing much needed relief to hundreds of homeowners in Allen County struggling with failed or failing septic systems."
Ric Zehr, President of the Allen County Regional Water and Sewer District Board of Trustees.
"Today is a great day for families in these communities who will be getting long-sought after sewer service. We are thankful to our state, county and city officials for their ongoing support and assistance with our mission to provide more affordable utility services that improve public health and achieve environmental benefits at the same time."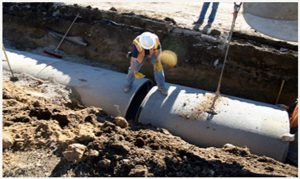 Project areas include the community of Poe along the St. Mary's River, neighborhoods near Carroll and Hand Roads near Huntertown, residential homes along Pion Road, Andar Road, Union Chapel Road and Lynnbrook and several small neighborhoods along Popp Road near Leo-Cedarville.
The District maintains partnerships with many municipal utility providers such as the Cities of Fort Wayne, New Haven and Woodburn and the private utility of Aqua Indiana as well as state organizations such as the Indiana Department of Environmental Management in order to keep project costs and rates more affordable for customers. Without these partnerships, many proposed projects would be cost prohibitive to homeowners who are in need of septic system relief. The State of Indiana, through the Indiana Department of Environmental Management and their State Revolving Fund (SRF) has provided more than $12,000,000 in grant funding since 2008 to Allen County along with millions of dollars more in low-interest loans and no-interest loans to help keep customer bills lower and make sanitary sewer projects more affordable for District customers.
The District also announced financial assistance commitments for upcoming projects in the Dupont Road area west of Lima Road, the Lafayette Center Road area, the Marion Center Road area south of Interstate 469 as well as areas in western Madison Township and eastern Marion Township. The District has assembled commitments from the City of Fort Wayne Utilities for more than $1,500,000 in partnering funds and assistance for projects planned for these areas to begin in 2018.
"This generous assistance will allow us to do even more for the community and the many homeowners who did not previously have an affordable option for replacement of their outdated septic systems"
"As older homes in rural areas continue to age and environmental regulations are updated, the need for sanitary sewer projects will continue to grow. These projects will benefit all of Allen County, not just the District, with cleaner rivers and streams and better public health. Projects like these help to keep millions of gallons of raw sewage out of our rivers and streams on an annual basis."
Ken Neumeister, Executive Director for the District.