Whether you run a small, medium or large business, if you have employees, it is critical to have rules in place in the form of documented policies. Properly managing your employees not only helps you get the best out of your staff, but ensures that everyone involved in the employer/employee relationship is on the same page. Doing this can help prevent problems that can seriously damage or even close your business.
Simply put: you cannot ignore the human resource management side of your business.
Lack of well thought out documented policies can lead to loss of revenue, decreased morale or breaking federal and state laws. Understanding the consequences of poor human resource management will help you determine whether you need to hire an HR manager or consultant and what you can do to minimize problems.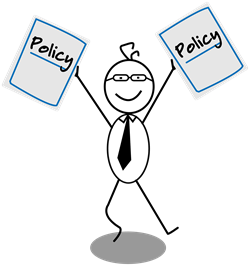 Many companies fail to take documenting this part of the business seriously until they get into trouble. We most often hear that the HR policies manual was downloaded from the internet – that's a good start.  However, did you really read everything in the policies to ensure they align with your organizational practices, benefits, disciplinary procedures and of course state and federal laws? Human Resources related complaints, lawsuits and litigation can be extremely monetarily expensive and can even damage your company's reputation (see glassdoor.com, publicly posted legal proceedings, etc.).
The top 3 of 10 reasons companies are sued for HR related reasons, according to HR Legal Consultants Bent Ericksen and Associates, are listed below.  BCS Management can help you assemble documentation and a plan for each of these areas.
Failure to follow employment policies and procedures.

Establishing policies and procedures is the first step to avoiding this pitfall, and implementing a policy manual is the most effective method of accomplishing this. Although policies may have been communicated verbally, putting them in writing in a policy manual helps to clarify the policies which will eliminate confusion.
Failure to keep good records.

Each practice should have three different files on each employee: an "Employee Regular File," an "Employee Confidential File," and an "Immigration Form" file.
Failure to conduct performance reviews.

Performance reviews are critical. Evaluating job performance, providing employees with constructive feedback, and jointly discussing and addressing areas for improvement are essential for a staff person's success. Equally important is having a true picture of each person's performance — or lack thereof. This is particularly useful when justifying why a certain person was discharged and another was not if a decision is ever questioned.
Is your business lacking in these areas? Concerned your HR policies are not reflective of what you really want, or worse yet, don't exist? Get in contact with BCS Management, to get a plan in place.  We will manage the creation of HR policies and procedures as well as performance review templates and employee record files.