The Allen County Regional Water & Sewer District (District) and City of Fort Wayne hosted a ground breaking ceremony today! The event, held at a lift station off of Leo Road, marked the beginning of construction for new sanitary sewer collection system improvement projects for 5 Allen County areas.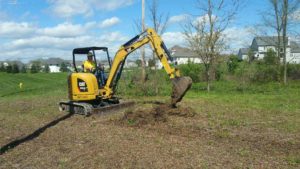 BCS managed the event and coordinated all media relations. The press release below is written by BCS and has been published by local media outlets, such as News Channel 15. We are excited to help get these new project areas under construction and get homeowners connected!
Read the full press release by BCS:
More than 250 Households To Get New Sanitary Sewer Service
Allen County Regional Water and Sewer District kicks off another round of septic relief projects in Allen County
 May 1st, 2017: Fort Wayne, IN – Recent efforts by The Allen County Sewer District and City of Fort Wayne bring public health protection and environmental improvements to households throughout Allen County. On May 1, 2017, the District hosted a 'ground breaking ceremony' at one of their latest project construction sites. The event, held at a newly proposed sanitary sewer lift station located at 12105 Leo Rd, offered an opportunity for the Sewer District, City of Fort Wayne, and residents of the neighborhoods off of Tonkel and Popp roads to celebrate progress for their community. This round of new construction will bring sanitary sewer service to the Tonkel Road, Popp Road road area as well as more than two hundred homes county-wide in neighborhoods in unincorporated areas of Allen County.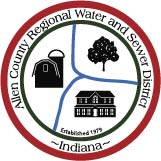 Similar septic system relief efforts in past years combined with this 2017 set of projects now total more than one thousand homes county-wide. Projects in the Community of Poe will provide sewer service to dozens of homes along the vulnerable St. Mary's River. A neighborhood near Carroll and Hand roads in northern Allen County includes up to twenty-five homes near Huntertown. Several neighborhoods near Leo-Cedarville are getting much needed septic system relief to more than sixty homes. Other initiated project areas include the Pion road area near Coldwater Road and an area near the intersection of Union Chapel and Lynnbrook Road.
Outdated septic systems can pollute streams, ditches, nearby surface water bodies and groundwater with either untreated or undertreated sewage and create public health and environmental problems. These older septic systems are also often not in compliance with the current standards. Expensive updates and replacement septic systems have size and technology limitations and their effectiveness is limited.
Department Administrator with the Fort Wayne-Allen County Department of Health, Mindy Waldron, commented on the ACRWSD work.
"Throughout Allen County, there are, unfortunately, thousands of onsite septic systems that are no longer compliant or functional which leads to public health concerns.  The pollution resulting from these failing systems can lead to the spread of disease.  Through the efforts of the Allen County Regional Water & Sewer District and their continuous efforts to provide sanitary sewer service to some of these affected areas, they are assisting us in eliminating these potential risks to the citizens of Allen County, one project at a time."
The District, in collaboration with the City of Fort Wayne and other partners, works to provide utility service to unincorporated areas of Allen County that are not served by other utility providers such as Fort Wayne, New Haven, Woodburn, Grabill, Monroeville, Leo-Cedarville or Aqua Indiana. The District provides service to almost 3,000 customers throughout Allen County and is the fastest growing sanitary sewer service provider in the area.
Unique Partnership Benefits Homeowners
The District partners with many other utility providers in Allen County to provide service to homes otherwise thought to be out of reach. The District has partnered with Fort Wayne, New Haven, Woodburn and the privately owned sewer utility Aqua Indiana.
"Our relationships with other utility providers are tremendously beneficial to our customers. It would be unaffordable to provide service in most all of our project areas if we were to install sewage collection and treatment facilities on our own" explained Ric Zehr, President of the ACRWSD Board of Trustees. "These community partners recognize the regional benefit of cleaner rivers, streams and ditches – even if it is outside their normal boundaries."
Allen County Commissioner, Nelson Peters, also in attendance at the event, voiced his support of the District work.
"We are pleased to have a part in procuring sanitary sewer hookups for our citizens as these more cost effective solutions also serve to provide a healthier environment for those we represent."
The State of Indiana has provided millions of dollars in grant funding through the Indiana Department of Environmental Management and their State Revolving Fund. This has brought low-interest loans and no-interest loans to help keep customer bills lower. The City of Fort Wayne also actively contributes to the success of the District projects by providing technical assistance and project funding to efforts that provide water quality benefits to the community.
Additional Information
The District was organized in 1979 as an independent political entity of the State of Indiana. The general purpose, for which the District exists, is to provide for the collection and disposal of sewage and distribution of water in the unincorporated areas of Allen County. The governance of the District is vested in the Board of Trustees consisting of seven (7) voting members. Three (3) members are appointed by the Allen County Board of Commissioners, two (2) members are appointed by the Mayor of the City of Fort Wayne, one (1) member is a member or designee of the Allen County Council, and one (1) member is a member or designee from the Fort Wayne-Allen County Board of Health. None of the members of the Board of Trustees are paid for their service to the District by the District.
In 2018, the District hopes to begin the construction of sanitary sewers in several additional areas of rural Allen County as well as the extensive overhaul of the sewage treatment works serving areas of western Madison Township and eastern Marion Township in southern Allen County. More than one million dollars of partnering funds have already been committed by the City of Fort Wayne for these improvements and the District hopes to receive similar commitments from county and state agencies to help keep customer rates lower.
In 2016, the District completed construction in several areas throughout rural areas of Allen County. The Community of Yoder project provided service to more than 140 homes and the St. Aloysius Church and elementary school. In addition, two areas near the Community of Hessen Cassel were completed at Trentman and Thompson Roads (36 homes) and US 27-Maples-Jennifer Drive (26 homes). Other project areas include Berneway Drive (11 homes), Gerdings Woodland Addition – Kroemer- Leesburg Roads (59 homes), Whipporwill Neighborhood (42 homes), Community of Wallen (50 homes), Goshen-Fritz-Cook-Steele Roads (85 homes) and Tonkel-Hursh-Mars-Crawford Roads (75 homes).
In 2013, the District completed septic system relief projects to neighborhood areas near the vulnerable Cedar Creek including Homestead Acres, Forest Canyon, Woodcliff and Windover neighborhoods and several rural neighborhoods near Flutter Road and Wheelock Road in northeastern Allen County. More than 400 homes were provided service.
In 2010, the District completed septic system relief projects to several areas in Allen County including the Winters Road Service Area, the Plantation Park Neighborhood, the Maples Road – Hughes Drive Service Area, Leo Road, the Winchester Road – Kinnerk Road – Allison Avenue – Boggs Avenue Service Area, and the Cedar Canyons and Cedar Shores Neighborhoods. More than 250 homes were provided service.
###
For more information, please contact Lana Beregszazi lana@bcs-management.com 260-438-0213 or the ACRWSD office at info@acrwsd.com 260-427-2696